Jurassic World: Dominion Dominates Fandom Wikis - The Loop
Play Sound
The Face Dogs (人面犬, Jinmen Inu?) are one of the creatures of the Otherside, known for its mass of white, egg-shaped faces, that pursues those who wander on the Otherside. The heads were heard to be barking and yelping like dogs.
Appearance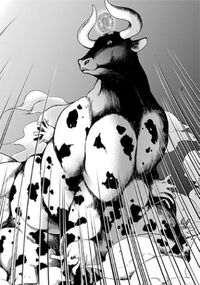 In the naked eye, it appears as a mass of white, vaguely defined egg-shaped faces with eye sockets and mouth sunken and black, floating in the darkness. Its true form is a caterpillar-like cow with countless legs growing out of it. On the very top of its body, right in the middle, is a ridiculously large cow head with a blue-light filled ring floating between its horns. What looked like the eyes and mouths of the creature are actually black spots on a white background.
Background
The Face Dogs' goal is to terrify whoever is looking at it with its many faces and drive them insane. Its pattern of black spots conveys a simulacra phenomenon; specifically, pareidolia,[1] in which the human brain is said programmed to recognize three dots as faces. Sorawo and Toriko first encountered the Face Dogs on the Otherside at night, chasing them along with the Walking Gallows and Horned Man. After being saved by the Palehorse Battalion, they once again encountered the creature. Sorawo used her right eye, recognizing its true form and shooting it in its head with an M14 EBR rifle.
References