Jurassic World: Dominion Dominates Fandom Wikis - The Loop
Play Sound
Otherside Picnic (裏世界ピクニック, Ura Sekai Pikunikku?) is a Japanese yuri sci-fi novel series written by Iori Miyazawa and illustrated by shirakaba. Published by Hayakawa Publishing, the series has seven volumes published since February 23, 2017, with volume eight in the works.
The series has also been adapted into an ongoing manga series that began serialization in Shonen Gangan on February 10th, 2018, and published in English on August 31, 2021 by Square Enix. The series has also been adapted to an anime series that premiered on January 4, 2021.
J-Novel Club published a physical omnibus counterpart for the novels. The first omnibus which contains volumes one and two was released December 1, 2020. A second omnibus containing volumes three and four was released on August 4, 2021. The third omnibus containing volumes five and six was released on June 7, 2022.
Plot
The series focuses on Sorawo Kamikoshi and Toriko Nishina, two young women who discover doors leading to the Otherside, a new world full of mystery that exists alongside our own. Where dangerous beings like the Kunekune and Hasshaku-sama that are spoken of in real ghost stories appear.
These doors can appear all over the place, such as in a run-down apartment building or by pressing a certain combination on an elevator. For research, for profit, and to find an important person, Toriko and Sorawo set foot into a new world in this story of bizarre exploration and survival.
Media
Novels
The series is written by Iori Miyazawa, illustrated by shirakaba, and published by Hayakawa Publishing since February 2017. There are seven volumes currently published. On December 2020, a junior edition of the Otherside Picnic novel was published under the children's book label Hayakawa Junior Books.[1] J-Novel Club has published seven volumes of the novels in English, with its eighth volume release date to be announced.
Each novel of the series contains 3-4 files, which are composed of chapters focusing on a specific true ghost story or net lore the protagonists encounter. An additional content called 'Works Referenced' is also found at the end of the novel where Iori Miyazawa mentions published works he referenced as well as the origin of the stories, such as pre-existing true ghost stories, net lore and those found on 2chan copypasta boards.
Manga
The manga adaptation of the Otherside Picnic illustrated by Eita Mizuno began serialization in February 2018 by Square Enix's Shonen Gangan magazine and currently has seven volumes published since August 2018. In July 2020, Square Enix Manga & Books, which is the North American publishing division of Square Enix, licensed the manga for an English release both physically and digitally on August 31, 2021.[2]
Anime
On March 5, 2020, Shonen Gangan, a manga imprint of Square Enix Holdings, announced that Iori Miyazawa's science fiction Yuri series, Otherside Picnic would be adapted into a TV anime. The anime adaptation was directed by Takuya Satō, who is also working on the series composition at LIDENFILMS and FelixFilm. A second PV was also released, featuring the latest cuts from the production. The Otherside Picnic anime premiered on January 2021 and starred Yumiri Hanamori as Sorawo Kamikoshi and Ai Kayano as Toriko Nishina.[3] Rina Hidaka and Miyu Tomita were also announced to join the cast as Kozakura and Akari Seto, respectively.
An exclusive special program was streamed on NicoNico with Yumiri Hanamori (Sorawo), Ai Kayano (Toriko) and Rina Hidaka (Kozakura). It was held on December 13, 2020. The first four minutes of the anime was presented during the said stream. A mini-web program "Otherside Tokubetsu Activity Report" was also released on the same day, where Yumiri Hanamori and Ai Kayano talk about the 'Otherside' in a 5-minute episode-format which was being released every Sunday.[4]
Others/Collaborations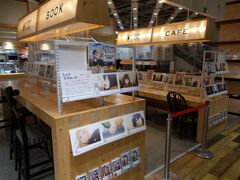 An Otherside Picnic café collaboration was held until January 12, 2021 in Yurindo Yodobashi Akiba Café Shop to commemorate the release of both volume 5 of the manga and the novel, as well as the upcoming anime.[5] Visual boards and illustrations from the original novel and anime are displayed throughout the shop and a free postcard is given to customers who ordered at the cafe during the fair. A book fair collaboration for Otherside Picnic has also occurred before in Yurindo for the release of the fourth volume of the novel which was held last December 2019.
Trivia/s
Otherside Picnic first appeared in SF Magazine's August 2016 Issue as a one-shot short story.
Contrary to popular belief, Otherside Picnic is not a light novel. The novels are published by Hayakawa Publishing, a well-known SF Publishing Company that does not publish light novels and has their own labels for their imprints. They categorized the series as a general novel label called ハヤカワ文庫JA (Hayakawa Bunko JA). Iori Miyazawa had also cleared that the series is not a light novel and did not write the series as such.
The series is a homage to the science fiction novel Roadside Picnic by the Strugatsky brothers. Iori Miyazawa had said in an interview that he took inspiration from the sci-fi novel, also mentioning the PC game S.T.A.L.K.E.R.: Shadow of Chernobyl and how he wanted to write a modern women's version of "Stalker" in a true ghost story.[6]
References