Obi-Wan Finale - The Loop
Play Sound
Otherside Picnic (裏世界ピクニック, Ura Sekai Pikunikku?) is the anime adaptation of the yuri sci-fi novel series written by Iori Miyazawa and is premiered on January 4, 2021. The anime adaptation will be directed by Takuya Satō, who is also working on the series composition at LIDENFILMS and FelixFilm.[1] Yumiri Hanamori will voice Sorawo Kamikoshi and Ai Kayano will voice Toriko Nishina.
Summary
Sorawo has been exploring the strange dream-like world she calls the Otherside ever since she stumbled upon it during her days as an urban explorer, but her most recent trip has gotten her into serious trouble. That's when she meets Toriko, a strange young woman searching the Otherside for her missing friend. Toriko helps Sorawo out of her predicament, and Sorawo falls into helping Toriko in her mission. But each journey into the Otherside brings strange new dangers and skills, and Sorawo isn't sure that the search is worth it.[2]
Announcement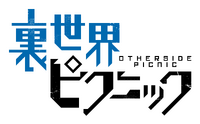 On March 5, 2020, Shonen Gangan, a manga imprint of Square Enix Holdings, announced that Iori Miyazawa's science fiction Yuri series, Otherside Picnic (裏世界ピクニック, Ura Sekai Pikunikku?) would be adapted into a TV anime.
Early February, Shonen Gangan hinted at a possible anime adaptation on Twitter. Additionally, in December, a short PV was released to promote the fourth volume of the light novel.[3]
On September 12, 2020, Otherside Picnic's official twitter[4] announced the anime is set to broadcast in January 2021, along with additional staff and also released a second PV which latest cuts from the anime production.
The anime will be produced at Liden Films and Felix Film. The series will be directed by Takuya Satō (Kase-san and Morning Glories, Fragtime, St'eins;Gate) and will star Yumiri Hanamori as Sorawo and Ai Kayano as Toriko.
Staff
Original: Iori Miyazawa (Published by Hayakawa Bunko JA/ Hayakawa Publishing)
Character Draft: shirakaba
Director / Series Composition: Takuya Satō
Character Design / Animation Director: Ayumi Nishihata
Creature Design: Kazutaka Ema
Effects Animation Director: Toru Yoshida (AnimeR)
Art Director: Hiroki Matsumoto (Atelier Platz)
Color Design: You Iwaida (Assez Finaud Fabric.)
Director of Photography: Takeshi Kuchiba (Assez Finaud Fabric.)
3D Director: Yuya Shiraishi (FelixFilm)
Editing: Masahiro Gotou (REAL-T)
Music: Tsuyoshi Watanabe
Animation Production: LINDENFILMS x Felix Films
Voice cast
Japanese
English
Music
Episodes
#
Title
Directed by
Written by
Air Date
01
Kunekune Hunting
Kunekune Hantingu
(くねくねハンティング)
Tomoei Makino
Takuya Satō
January 4, 2021
02
Hasshaku-sama Survival
Hasshaku-sama Sabaibaru
(八尺様 サバイバル)
Koji Aritomi
Takuya Satō
January 11, 2021
03
Giant Village
Kyotō no Mura
(巨頭の村)
Yuta Takamura
Iori Miyazawa
January 18, 2021
04
Time, Space, and Old Man
Jikan, Kūkan, Ossan
(時間、空間、おっさん)
Michitaka Shiraishi
Koji Shuki, Tomoe Makino
January 25, 2021
05
Station February
Sutēshon Feburarī
(ステーション・フェブラリー)
Takanori Yano
Toshizō Nemoto
February 1, 2021
06
Meat Train
Mīto Torein
(ミート・トレイン)
Takeshi Tomita
Toshizō Nemoto
February 8, 2021
07
Resort Night at the Beach of the End
Hate no Hamabe no Rizōto Naito
(果ての浜辺のリゾートナイト)
Kana Kawana
Yasunori Ide
February 15, 2021
08
Attack of the Ninja Cats
Neko no Ninja ni Osowareru
(猫の忍者に襲われる )
Tomoe Makino
Takayo Ikami
February 22, 2021
09
Sannuki-san and Karateka-san
Sannuki-san to Karateka-san
(サンヌキさんとカラテカさん)
Michita Shiraishi
Takayo Ikami
March 1, 2021
10
How to Go to Yakiniku by Elevator
Erebētā de Yakiniku ni Iku Hōhō
(エレベーターで焼肉に行く方法)
Koji Aritomi
Iori Miyazawa
March 8, 2021
11
The Operation to Rescue the U.S. Forces at Kisaragi Station
Kisaragi-eki Beigun Kyūshutsu Sakusen
きさらぎ駅米軍救出作戦
Yuta Takamura
Toshizo Nemoto
March 15, 2021
12
Sorawo and Toriko
Sorawo to Toriko
ソラヲとトリコ
Tomoe Makino
Yoriko Tomita, Takuya Satō
March 22, 2021
Blu-Ray Release/s
Promotional Material
Newtype Magazine
Videos
Trailers
Tokubetsu Activity Report
Trivia/s
External Links
References